If you manage a homeowners association and intend to cut costs, you should consider outsourcing accounting to a professional financial services firm. Outsource HOA accounting is an economical solution that can save your association a large sum of money in the long run.
Regardless of your HOA being self-managed, outsourcing your association's finances to financial professionals can help provide a high level of experience, expertise, and quality.
Reasons to Outsource HOA Accounting
Here are the top 6 practical reasons to assure you that outsourcing HOA financial accounting tasks to experts can be fruitful and economical: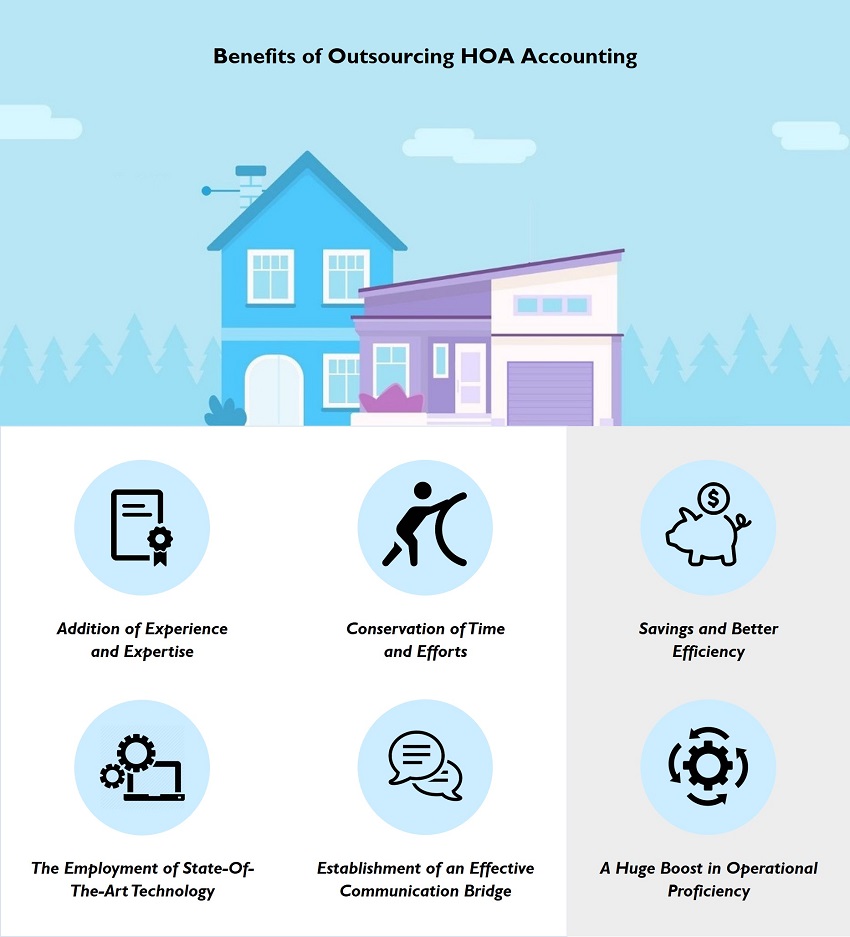 1. Addition of Experience and Expertise
By outsourcing your company's finances to professionals, you would get more precise and informative results. The professionals deal with a diverse client base and thus possess knowledge and experience more significant than any usual in-house team.
They possess the necessary flexibility to respond to issues as they arise, and mitigate potential setbacks, understand industry standards and requirements in the industry.
Finance professionals can provide reports on financial health and insights by developing reinforced short-term and long-term financial strategies.
Aside from handling your HOA accounting, they can also contribute towards your company's betterment by managing several tasks, including assessment collections, accounts payables, and rendering detailed financial reports and analysis.
2. The Employment of State-Of-The-Art Technology
Outsource HOA accounting companies work with the latest tools and high-end accounting technologies. hey employ online resources such as online payment methods that include auto-debit payment and credit card payment options. It also provides community members with more accessible payment methods and effective communication.
Collaborating with a reputed financial management company can help you enhance security and protect your association's sensitive information.
Professionals employ safeguards to ensure confidentiality, controlled access, and reliable data backup. This helps them call-out vulnerabilities, fix loopholes, and squash bugs.
3. Conservation of Time and Efforts
Picking a high-quality financial service provider can help you save time and efforts by swift completion of tasks and higher precision.
Employing in-house accountants might get the job done, but at the same time, it can cost their time, which alternatively, could've been spent doing productive tasks for the betterment of your association.
4. Savings and Better Efficiency
Often, managers believe that in-house staff is less expensive than outsourcing, based on their hourly wage. However, outsourcing your HOA accounting with a professional financial services provider is more economical than you might think.
Extra expenditure on training, supervision, and benefits for the in-house accountants must be taken into account, not to mention the payroll taxes. It becomes increasingly convenient to avoid high operational costs when you outsource HOA accounting services.
5. A Huge Boost in Operational Proficiency
Besides the benefit of being extremely cost-effective, outsourcing can help you more efficiently use your existing personnel. Considering that you outsource routine and basic accounting tasks, your in-house staff can dedicate their time, resources, and energy efficiently on core services.
Outsourcing rids you of the unimportant work to fill up the schedules of your in-house accounting personnel.
By implementing outsourcing, you can dedicate your resources and staff on prominent business development measures, allowing your team to emphasize addressing initiatives that assist your association's financial viability.
6. Establishment of an Effective Communication Bridge
The reputable outsourced accounting professionals are now extremely responsive and communicative, regardless of your accounting team being present on-site or not.
Tools like video meetings, conference calls, and group emails have now facilitated face-to-face interactions with the outsource HOA accounting professional.
In case an emergency arises, an outsourced agency is a phone call, video chat, or a text away. Outsourced financial professionals have become highly flexible while dealing with unprecedented scenarios.
Conclusion
Finances and budgeting can be tedious to manage, with the board members having little to no expertise in finance.
Spending your members' dues judiciously and safeguarding your association's financial health is the board's priority, and for these reasons, outsourcing your HOA accounting is an excellent choice.
You must look for an outsourcing company that contributes to your association's success and addresses the challenges and issues your association faces.
About
OHI is a fifteen-year-old real estate services company working with 50+ commercial and residential real estate developers, funds and property management companies across USA. Our deep expertise in real estate accounting, financial analysis, lease administration and asset management has helped clients cut associated costs by 40-50%. We currently provide these services to a portfolio of 50000 units across clients.
We invite you to experience finance and accounting outsourcing through us.
---