The global pandemic, COVID-19, has impacted every sphere of human dwelling. Under such challenging situations, where every state, country, or region is following its own set of regulations to fight and cope with the present scenario, even landlords and property owners are trying to figure out the best path forward for them.
Irrespective of whether you are a residential or commercial property owner or manager, or if you have single or multiple units or a large complex, you need to be fully aware of the preparedness, communication, and the legal impact that COVID-19 is going to subject you to.
Property Management Tips for Landlords
These Property management tips for landlords and property owners during the COVID-19 pandemic can especially be useful. Here is what you can do: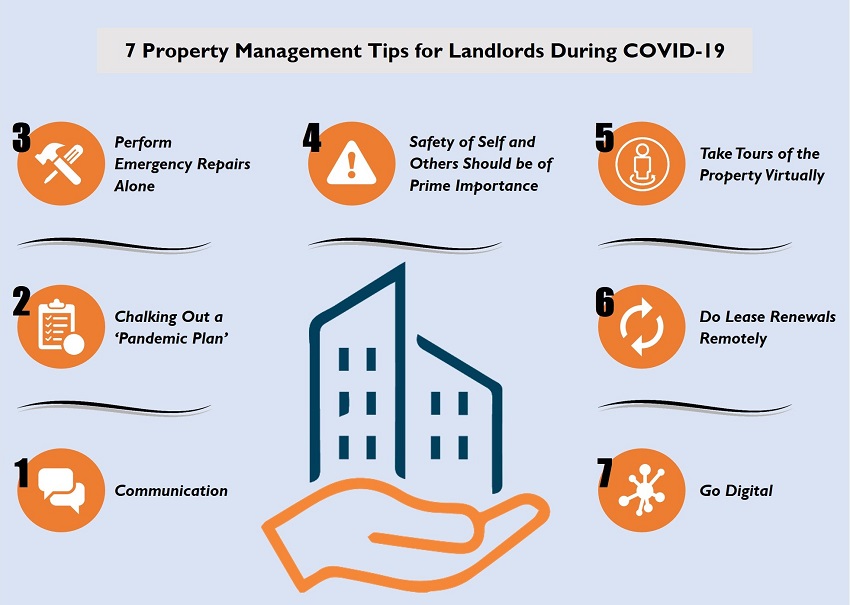 1. Communicate
Communication is the key to relieve stress during these times of distress, and landlords can connect with residents frequently and constantly to minimize potential issues. This can be through digital interaction if you already have an online platform that you use to collect rents where these updates can be posted. Connecting on a frequent and regular basis with your tenants and keeping them hooked on the same page would not only enable sharing comments and concerns regarding the present COVID-19 situation but would also initiate suggestions that can be used as a weapon to fight against this global calamity.
2. Chalking Out a 'Pandemic Plan'
A recent study by Appfolio reveals that 99% of property managers are already working upon a pandemic plan to handle and face the current situation. It is always advisable to have a ready plan of action to adopt and act upon when the situation worsens. Having complete knowledge of the local guidelines regarding COVID-19 and also being up-to-date with the preventive measures issued by the authorities is a must to safeguard yourself and others around you.
3. Perform Emergency Repairs Alone
All your non-essential repairs should be postponed for the time being, and the same should be informed to your tenants in advance. In case a repair work is essential and inevitable, it should be carried out under strict guidelines. Every possible precaution should be taken before executing the repair work like wearing of gloves, masks, maintaining proper social distancing, and so on.
4. Safety of Self and Others Should be of Prime Importance
When landlords and tenants work together towards a single goal to fight the pandemic, it gives optimum results. The same should be encouraged and applied to the present COVID-19 calamity. All tenants and staff should be trained about the precautionary measures to be adopted, and EPA approved disinfectants should be provided to ensure complete safety at all times. Also, non-essential common areas should be temporarily closed, and gatherings should be discouraged.
5. Take Tours of the Property Virtually
Zoom, Skype, Google Hangouts have come up like a blessing in disguise for property owners who want to replace 'in-person' property touring with virtual tours. These video conferencing services not only assist landlords in keeping an eagle's eye view on their property but also helps them practice social distancing at the same time.
6. Do Lease Renewals Remotely
Keeping the present COVID-19 situation in mind, as a property owner, in case of multi-family properties, do not encourage residents to visit the leasing office in-person. There are many good apps like Appfolio and others for lease abstraction and management and for residents to access and work upon simultaneously where renewals of a lease can be done with ease and even signing of agreements online can be initiated with complete comfort and ease.
7. Go Digital
To run essential businesses, we have the digital world to keep our activities going uninterrupted. Both landlords and tenants can avail of online applications, online payments as well as screening tools to make life simpler and easier while this pandemic is on and also beyond it. As for landlords, they can take their operations online and keep their tenants updated with everything concerning them.
Closing Thoughts
COVID-19 has struck us unprecedentedly, and like its arrival, its departure is also unknown. However, as property managers and landlords, you can still keep yourself and your renters calm by backing them through and through during these crazy times. The above property management tips for landlords can render you the confidence and strength to fight this global pandemic together as a team and even come out of it with flying colors.
About
OHI is a fifteen-year-old real estate services company working with 50+ commercial and residential real estate developers, funds and property management companies across USA. Our deep expertise in real estate accounting, financial analysis, lease administration and asset management has helped clients cut associated costs by 40-50%. We currently provide these services to a portfolio of 50000 units across clients.
We invite you to experience real estate accounting outsourcing through us.
---