Small business owners face daily challenges on many fronts, from generating customer happiness, to managing inventory, to promoting their products/services and to fighting competition. One of the most crucial ones is running an efficient accounting department.  A business owner often faces challenges such as:
Unqualified and inexperienced accountant/team
Books are not updated on time
Limited or no accounting data to take financial decisions
Accounting outsourcing is the answer to these challenges. A business can be rest assured that their books are in safe hands of a qualified and experienced accounting team and updated on a regular basis. An updated book helps in taking informed business decisions.
However due to the lack of understanding, many businesses believe some misconceptions regarding this service. We analyze five of the most common accounting outsourcing myths about a service that is essentially designed to increase the efficiency and profits of the business.
Accounting Outsourcing Myths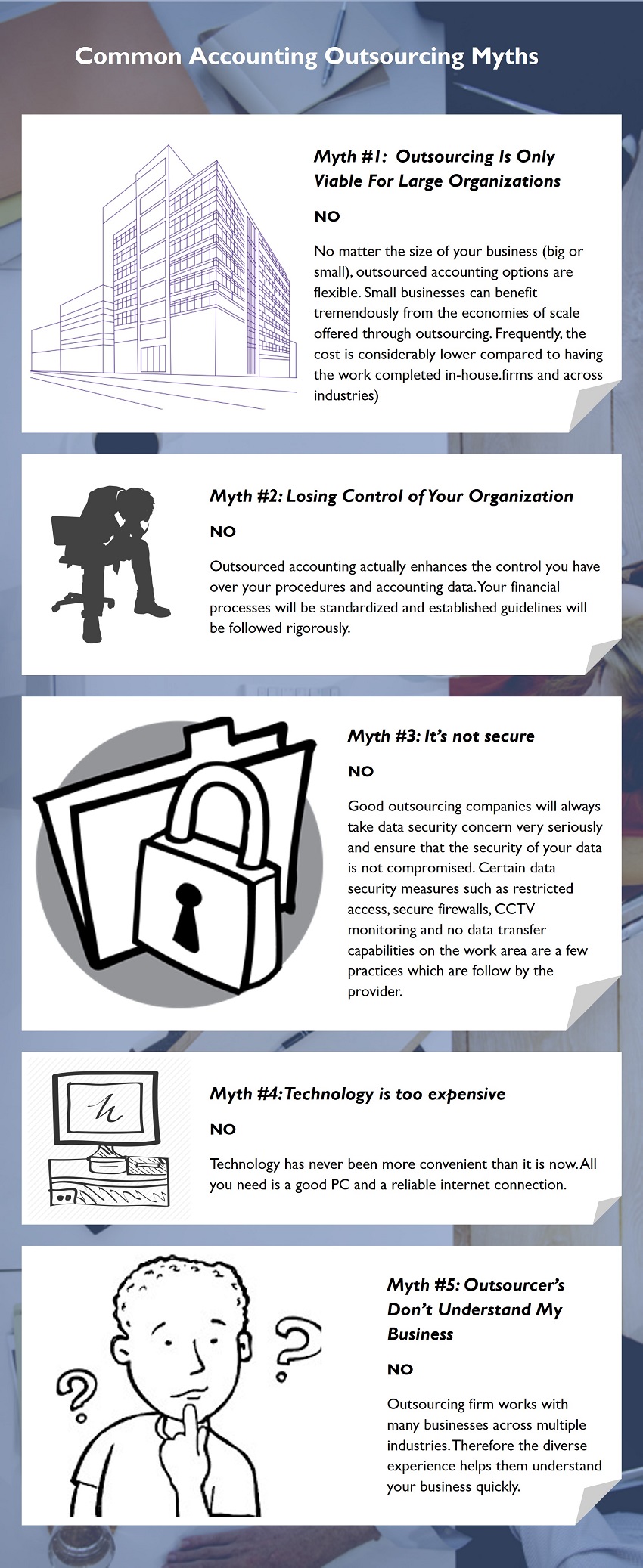 Benefits of Outsourcing Accounting
Cost savings between 40-60%- Realize savings ranging from USD 9600-21600 yearly in staffing costs alone
Access to skilled accountants and analysts
Flexible Contracts
Complimentary time zone difference between India and US helps in getting the work done faster
Saves time to focus on growing the business
Better financial control and improves the relevance, reliability and quality of financial information
Conclusion



The decision to outsource accounting functions is a significant one for many businesses, and it's often clouded by misconceptions. Among these are the Common Accounts Payable Outsourcing Myths, which suggest potential pitfalls like loss of control, compromised data security, or hidden costs. However, when these myths are closely examined, they often don't hold up against the tangible benefits and safeguards established by reputable outsourcing firms. In conclusion, while it's vital for businesses to conduct thorough research before making any outsourcing decisions, it's equally important to differentiate between myths and the actual realities of the process. By doing so, companies can confidently leverage the advantages of outsourcing while mitigating potential risks.
About
OHI is a specialized finance and accounting outsourcing service provider with over fifteen years of finance and accounting outsourcing experience. We have strong functional outsourcing expertise in end to end accounting processes covering daily accounting activities, reconciliations, month end and year-end account finalization processes, employee reimbursements, payroll processing, management reporting and financial analysis.
OHI serves close to 300+ clients across USA, UK and Canada. We invite you to experience finance and accounting outsourcing through us.
---
Learn More About Our Accounting Services for Small Mid Size Businesses: AP | AR | Reconciliations | General Accounting | Month End Closing | Financial Reporting – VIEW MORE