Buildium Property Management Software is a cloud-based tool that helps in managing and streamlining business activities, including vacancy management, rents & payments, maintenance cycle management, and accounting. This software can be utilized for daily activities, such as sending reminders and clearing payments.
Ideally, with this software, it is possible to restructure your rent cycle and activities – lease tracking, tenant tracking, ledger accounting, on-demand reporting, and automation of rent collection. As a property owner, you can benefit a lot from the automation workflows of this tool.
Features of Buildium Property Management Software
Buildium Property Management Software can simplify workflows and specific processes for property managers and property management businesses. Here are some amazing features of this tool.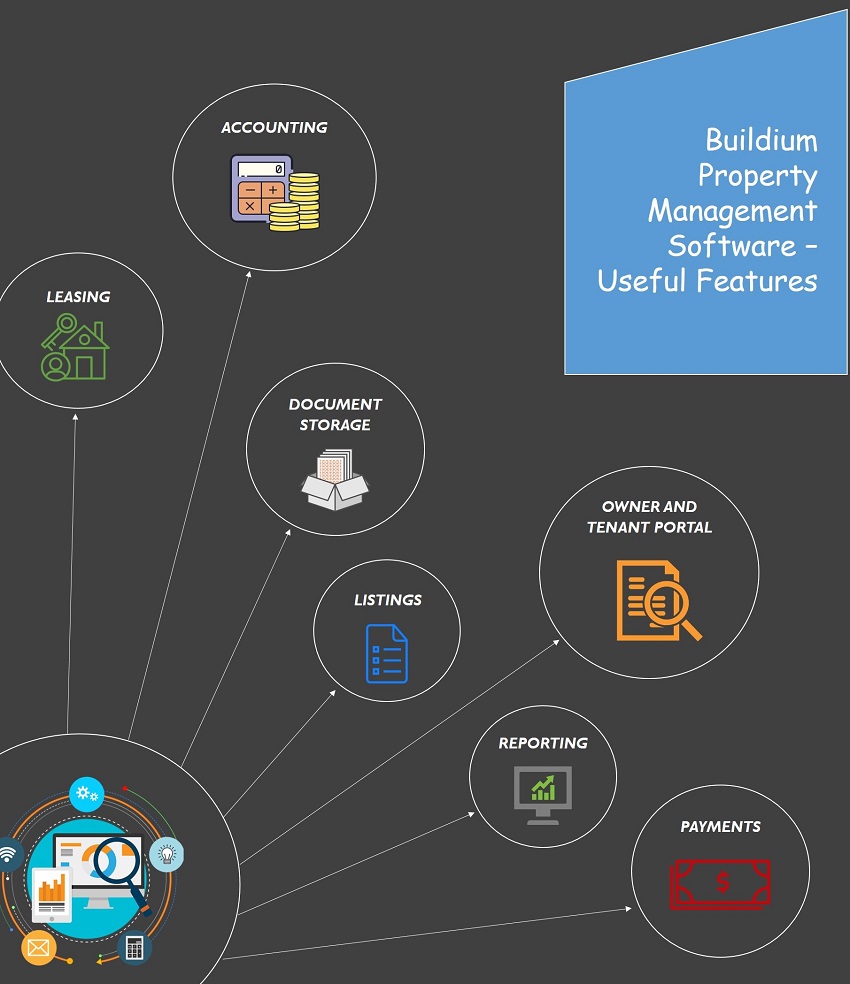 Accounting
A major part of every business is accounting. No business can run without efficiently executing accounting and bookkeeping tasks. Buildium has in-built software for the company's accounting, buildium bookkeeping, and tax management. This is accompanied by additional features like financial reporting, payment recording, and bill management.
For instance, if your tenant wants to pay rent online, you can use Buildium to directly deposit this payment through the preferred method to your bank account. This also helps in passing payments through the ledger and automatically recording transactions.
Leasing
The next module you can utilize in the software is the leasing process. Through Buildium, you can handle the rental listings on Trulia, Zillow, Craigslist, and Yahoo. Later, you can use the same software to screen your tenants and shortlist applications. The software offers a completely online procedure. You can even sign your leases online.
In rental management, screening is the most important activity. It helps property managers and landlords to safeguard their income and properties. Fortunately, the Buildium screener can efficiently help you access the criminal, credit, and eviction records in a click. This helps you understand if an applicant is actually interested in moving in or if they are the right candidate or not.
Additional Features
All the listings are customized according to your requirements, such as based on popular websites like Trulia, HotPads, etc.
According to your pre-recorded calendar, interested applicants can book a showing or visit online itself
Manage fees, applications, and their data through one database
Separate owner and tenant portal for streamlined and clear communication and information access
Secure document storage for emails, updates, notices, leases, insurance, and similar records
Tenants have the feasibility to utilize the preferred payment method for monthly rent, security deposits, or late fees through credit card or EFT
Maintenance requests can be raised by tenants through Buildium for simpler tracking and less hassle
Property managers can track their business expenses and income through the software. They can create reports and check e-file statements by vendors and clients.
Create a professional and customized website for your property management business
If you face any issue while using the Buildium software, you can easily take help from the academy. Here's the link to Buildium Academy, which contains a lot of data, such as how-tos and quizzes.

Branding – It will allow you to create your own brand or use a custom logo

Easy to use – It will have an intuitive interface which is easy to understand even if you are not tech savvy

Tenant report card – It will allow you to track the performance of your tenants

Closely monitor costs – It can help analyze expenses in a detailed way which aids in budgeting.
Pricing
Buildium Property Management Software has three pricing structures with different services. Every structure has a varied monthly fee. Depending on your requirements, you can select the best service. Below are the options.
Premium Plan
Premium Plan is for extensive property management needs. Every feature is included in this plan. You additionally get insight and analytics buildium features along with business development support.
Price
The price for the entire plan is USD 460 for each month.
Growth Plan
The growth plan is good for property management companies. It has additional features, such as free bank account setup, incoming payments, and mobile inspections. You can also e-lease 30 free documents.
Price
The price for the entire plan is USD 160 for each month.
Additional payments are:
USD 0.50 for outgoing payments
USD 18 for screening
2.95% for credit card transactions
Essential Plan
Property management companies, as well as landlords, can purchase this plan for the management of 150 or fewer rental units.
Price
The price for the entire plan is USD 50 for each month.
Additional payments are:
USD 1 for incoming payments
USD 0.50 for outgoing payments
USD 15 for screening
2.95% for credit card transactions
USD 99 for bank account setup
USD 5 for e-lease
USD 99 for mobile inspections
The application may be put to use for recurring errands, such as informing individuals of upcoming due dates and processing payments. Choose from one of three different price tiers for Buildium's property management software depending on your preferences and requirements. 
The monthly buildium cost varies from one structure to the next and is dependent on a number of elements that are specific to that structure. The expansion package comes with features such as a free checking account, mobile auditing, and payments. 
If you want to make the processes and operations of the company more streamlined, using Buildium, which is software for property management, is a good choice. Due to the approachable price plan, property management companies of smaller and medium size are able to subscribe to this programme on a monthly basis at a cost that is both affordable and manageable.
Should You Use Buildium Property Management Software?
Buildium Property Management Software is a web-based application that can help simplify a variety of property management tasks, including accounting, managing rents and payments, managing maintenance cycles, and managing vacancies. These are just some of the processes that can be simplified with the software's assistance. 
If you want to streamline the processes and activities of the business, Buildium is a suitable property management software for you. As a property manager, it can get hectic to manage information and handle multiple data streams manually. The Buildium tool is amazing for activity and process automation.
The pricing structure is also designed to help every category of users. So, even small and medium property management companies can easily purchase and utilize this software on a monthly basis.
The buildium property management platform reviews are also extremely positive. If you want to improve your operational efficiency, check the above pricing plans, select the suitable one, and start using Buildium property management software, today! 
About
OHI is a fifteen-year-old real estate services company working with 50+ commercial and residential real estate developers, funds and property management companies across USA. Our deep expertise in real estate accounting, financial analysis, lease administration and asset management has helped clients cut associated costs by 40-50%. We currently provide these services to a portfolio of 75000 units across clients.
We invite you to experience finance and accounting outsourcing through us.
---
Learn more about our Real Estate Accounting Services and Buildium Expertise: AP | AR | Reconciliations | Month End Closing | Financials | Year End Accounting | Reporting – VIEW MORE