Outsourcing is a 'one size fits all' remedy that seems to help with cost-cutting initiatives in major corporations to small enterprises. It was the Fortune 500 Companies that first demonstrated that organizations could focus on customer service if they outsource non-core accounting activities to accounting outsourcing service provider. With communication and technology becoming more affordable, accounting outsourcing has become the new normal.
Since a big bulk of accounting can be outsourced, it is easier to consider the core accounting processes that must not be outsourced. These include:
Business processes that require close engagement with senior management (for example, budgeting)
Business processes that require close engagement with customers (for example, follow-up on collections); and
Business processes that require on-site presence (for example, inventory audits)
Apart from these operations, companies can handover the rest of the accounting to outsourcing companies. It is important to note here that the handover is to be carried out in a phase-wise manner, and the service provider must be chosen after careful deliberation. Although the other operations are not part of the core accounting, it still requires a reliable outsourcing service provider company.
Steps to Choose a Perfect Accounting Outsourcing Service Provider

So how does an organization choose the ideal accounting outsourcing service provider? Here are the key parameters to help you choose an accounting outsourcing firms: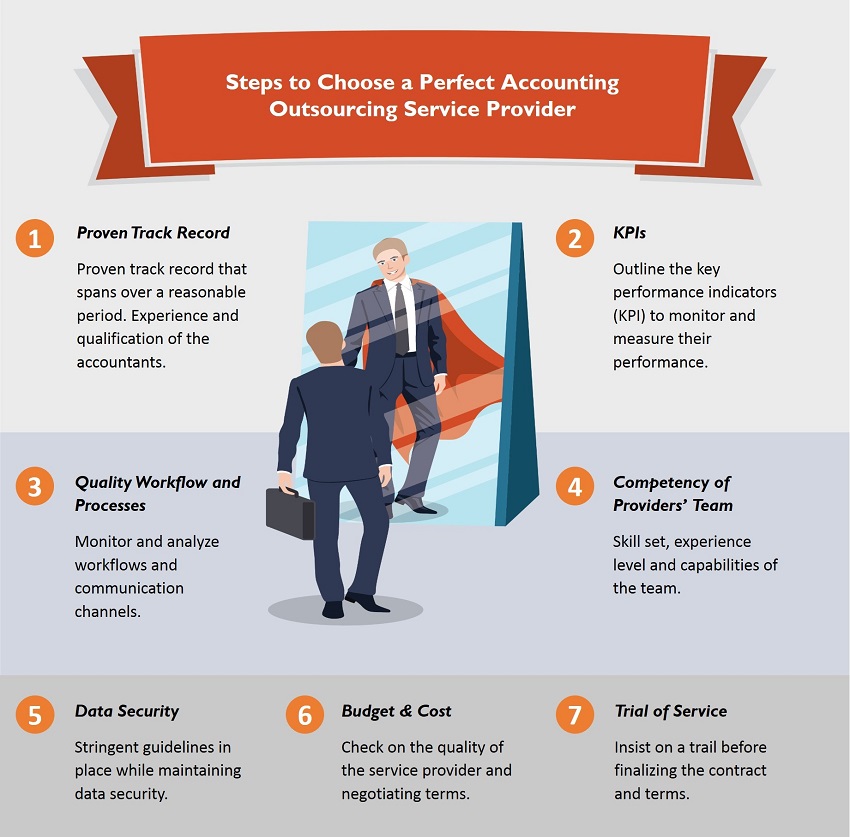 Proven Track Record
Does the outsource accounting firm have a proven track record that spans over a reasonable period?
To ensure this, companies must look at the firm's track record, right from the time of the company's inception. Experienced service providers carry with them more experience and lesser chances of messing up. Certain service providers may not have the requisite years of experience, but if they can offer quality management, they are worth considering. So an accounting services provider must be judged on more than just their years in the business.
Key Performance Indicators Adopted
To check the efficacy of the accounting outsourcing company, you need to first outline the key performance indicators (KPI) to monitor and measure their performance. This KPI depends on the accounting product that is being outsourced.
Quality Workflow and Processes
Given that there will be internal and external staff involved, the workflow will have to be modified accordingly. Further, communication channels between the two will also have to be established to ensure a seamless transition from one team to another. If there are creases along the way, it may result in a finished product that is not in line with the client's expectations.
Competency of Service Providers' Team
One of the most crucial factors would involve assessing whether the outsourced service provider has skilled staff that is capable of handling and designing processes that can give you an unfair advantage over your competitors. You should only hire the provider that can give you the best accounting outsourcing services.
If the outsource accounting service provider has experts on their team who are capable of offering more than standard accounting tasks like book-keeping, then they are more likely to be value for money. Additionally, they are not only capable of handling a diverse set of tasks such as financial analysis but are also capable of scaling up according to your requirements as your company expands.
Data Security
Handling accounts could expose the team to sensitive information, which might demand the maintenance of confidentiality. Hence, accounting outsourcing service providers should be capable of substantiating their claims of operating over secure information technology systems. They should provide proof that they are capable of handling your accounts without any leakage. You can also use a contract to make sure that the private information of your company is safe in their hands. It is important that they conform to ISO 27001 standards, as it lays down stringent guidelines on maintaining security by the service provider.
Budget and Cost Advantage
When availing the services of an outsourcing accounting service provider, your company's budget plays an important role in this decision-making process. It is true that hiring an outsourcing company will cost you less but the price charged differs from one company to another. A service provider that offers his services at abysmally low prices may not necessarily be the best option. Conversely, a company making unreasonably high demands may not be capable of coming through on their promise. In some cases, paying a little extra in lieu of additional services could give you the cost advantage.
Hence, the best way to assess a service provider would be by carrying out checks on the quality of the service provider and negotiating terms until it suits both the parties. Further, the pricing structure shall have to be reviewed periodically.
On-Time Work Delivery
Every process in the professional world has a deadline. And if one part of the system misses that deadline then the entire system can get affected. So the only way to avoid this from happening is to use time management as a criterion when you are choosing the outsourcing provider.
The accounting outsourcing service provider must be able to hand over top quality results within the given time. It should not make a difference whether the task is simple or complicated. The best way to go about this is to communicate this requirement with the provider itself. They will know best what kind of outcome they are capable of.
There are a lot of criteria that you must keep in mind when you are selecting your outsourcing company. It will not be an easy task but in the end, all this hard work is sure to pay off. You will only be doing this once since after that the outsourcing company will be in charge of your non-essential accounting processes. So, it is best if you struggle through this selection process to reap the benefits of it later on.
Final Thoughts
With the above-mentioned points, you will be capable of selecting an accounting outsourcing service provider that meets your requirements and your budget. Upon taking care of these factors, you can ensure that your firm makes a wise decision on choosing the right service provider that will help you extract the maximum benefits.
About
OHI is a specialized finance and accounting outsourcing service provider with over thirteen years of finance and accounting outsourcing experience. We have strong functional outsourcing expertise in end to end accounting processes covering daily accounting activities, month end and year-end account finalization processes, employee reimbursements, payroll processing, management reporting and financial analysis.
OHI serves close to 300+ clients across USA, UK and Canada. We invite you to experience finance and accounting outsourcing through us.
---