Property management, in simple terms, involves the administration, supervision, and maintenance of various residential and commercial properties with the primary aim to generate income and enhance value. Be it premium apartments, condominium units, shopping centers, or rental houses – property management requires landlords, owners and property managers to oversee challenging asset-based portfolios and streamline routine real estate operations on an everyday basis.
However, when it comes to the actual task of micro-managing all the physical assets under your possession, the simple job of property management can turn into an extremely stressful affair. This is especially true if you have large swathes of properties placed under your immediate surveillance. Right from fulfilling maintenance requests and conducting regular inspections to facilitating rent collections and ensuring regulatory compliances – the job responsibilities of property managers are far too many to be managed manually!
This is why, in the interest of efficiency, productivity, and competitive advantage, it is important to forgo the conventional methods of property management and bring on board a novel, unique and dynamic approach – a real estate accounting system.
As a property owner, manager or operator, if you too are willing to purchase a sophisticated property management/real estate software, here are a few quick tips which can help you choose a responsive, innovative and effective real estate accounting system
Factors to Consider While Choosing a Real Estate Accounting System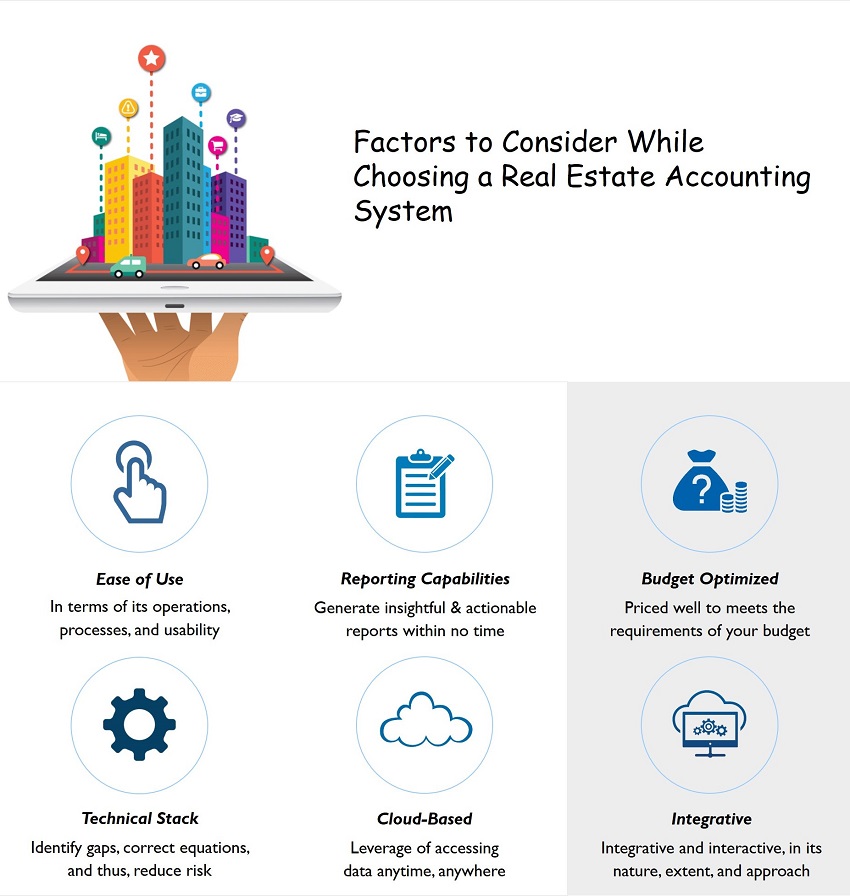 Ease of Use
The first thing you should seek in a property management software is – ease of use. Software that has been designed with tricky navigation, convoluted dashboards, and poor UX/UI would be of no use to you, in the longer run. This is because complexity, if any, would defeat the very purpose of simplifying or automating your repetitive tasks. So, ask for a demo and find out everything you can about how easy or tough a software is, particularly in terms of its operations, processes, and usability.
Technical Stack
A technical stack is basically a combination of all the front-end & back-end inputs which have been used to create a certain software. In the case of property management/real estate software, an analysis of technical stacks gives you a detailed snapshot of what the software may entail in real-time. It enables you to identify gaps, correct equations, and thus, reduce the risk of a potential crash. It also prepares you to experiment with various technologies & finally select the one with the most mature functionality.
Reporting Capabilities
A good real estate accounting system should be able to generate insightful & actionable reports within no time. Such report generation capability does not just equip you to make sense of the otherwise unworkable, raw data, but it also helps you improve your customer interaction interface. If the software includes flexible report creation along with double-entry accounting, the benefits – especially for meeting financial/regulatory requirements – would further multiply!
Cloud-Based
Instead of choosing software that would need to be physically 'installed' on your database, go for the one which 'lives' on the cloud. A cloud-based software would spare you the cost of inducting expensive, in-house servers and give you the leverage of accessing data anytime, anywhere. Your rental information, tenant documents, financial reports, and all other details would be backed up digitally, thereby bringing about a significant reduction in your overall physical & infrastructural expenses.
Budget Optimized
While real estate accounting systems can easily propel you towards major success, the truth remains that there are no free lunches! Even if you opt for open source software, you will have to incur costs for its customization and development. Similarly, the costs of hosting, securing, and using various features would also have to be borne. This is why it is crucial to make sure that the software you finally deploy is priced so well that it meets the requirements of your budget in an optimized way.
Integrative
Last but not the least, intelligent property management software should be integrative and interactive, in its nature, extent, and approach. It should be able to integrate routine workflows with in-built or third-party applications, without incurring any significant downtime. It should also have the capability of managing work orders, lending them a visual outlook, assigning them to the correct service provider, keeping track of their execution, and generating relevant invoices, throughout the day.
Irrespective of which software product you finally choose, ascertain that it is compatible with both desktop & mobile devices. The mobility associated with real estate accounting systems would grant you the ease, comfort, and convenience of gaining access to the latest information while capturing field-based data, without any practical hassles.
Recommended Real Estate Accounting System
Although there are a variety of competent real estate accounting systems that you can ultimately choose from, it is important to pick the one which specifically meets your needs, requirements, and demands in the best possible way.
In this regard, here are a few real estate accounting systems that you can effectively consider: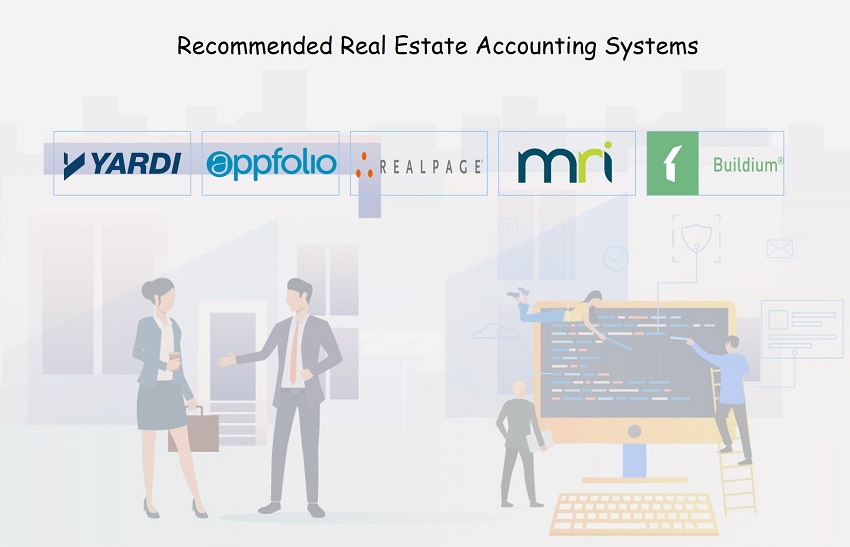 Yardi – Currently a leading property management/real estate software, Yardi makes continuous, industry-led innovations in the real estate sector. The software is well-designed, personalized & highly professional
Appfolio – Devised as a SaaS platform for multiple vertical markets, Appfolio is used by thousands of property managers to automate their jobs & reap profiting, efficient, and organized results
RealPage – Catering to the needs of multi-family, single-family, commercial, senior-living, and vacation rental housing, RealPage saves valuable time by improving resident engagement & staff efficiency
MRI – Designed with an intent to liberate the real estate business, MRI delivers open and connected solutions for a plethora of property portfolios held by owners, operators, and investors
Buildium – Operating since 2004, Buildium, just like its counterparts, provides accounting, management, and communication services. It helps track the latest trends, build lasting relationships and hence, expand your property portfolio
Wrapping Up
Backed by the power of digital solutions, a real estate accounting system can easily help managers, owners, and operators to automate, regulate and simplify, routine property management tasks. Not only does this software minimize the long-term costs of property management, but it also works wonders in reducing documentation, saving time, and rationalizing legalities, by creating a centralized, user-oriented, operator-centric dashboard.
As times change, the real estate sector will also begin to undergo a major transformation. Its market size will increase exponentially from the current $88 billion and will defy all odds to grow at a consistent rate of 2.5% per year. Under such circumstances, choosing the right software, evaluating its features, identifying its gaps, and implementing it across all verticals, will hold a great amount of relevance for both organizations as well as individuals.
Therefore, if you, too, want to gain a decisive edge over your competitors and benefit from a technologically equipped future, it is time to choose a well-crafted real estate accounting system – and jumpstart your real estate managerial operations now!
About
OHI is a fifteen-year-old real estate services company working with 50+ commercial and residential real estate developers, funds and property management companies across USA. Our deep expertise in real estate accounting, financial analysis, lease administration and asset management has helped clients cut associated costs by 40-50%. We currently provide these services to a portfolio of 75000 units across clients.
We invite you to experience finance and accounting outsourcing through us.
---
Low Cost Property Accounting Services for Residential and Commercial Real Estate Firms: AP | AR | Reconciliations | Month End Closing | Financials | Year End Accounting | Reporting – VIEW MORE