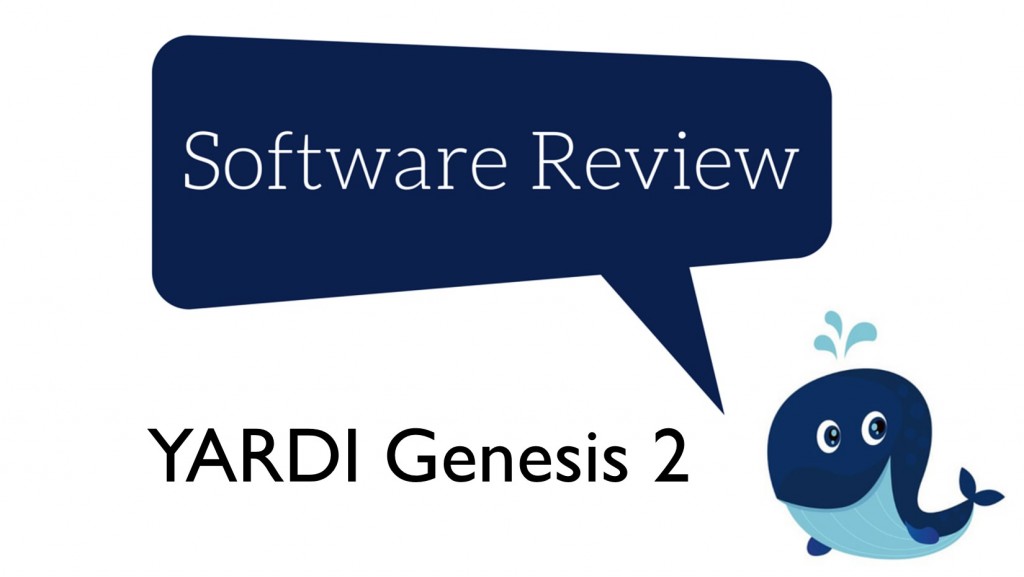 Yardi Genesis 2 is a web-based property accounting software that has been designed for small and medium-sized properties. Yardi Genesis 2 is designed for all real estate management including residential, commercial, condos, homeowner associations, self-storage, offices, retail and other type of properties. Its typically suitable for real estate portfolios of less than 1000 units or less than 1 million sq ft. It's an integrated accounting software having a powerful GL module along with AP, AR, Cash/Bank, and other modules such as leasing and maintenance. Genesis 2 combines a comprehensive property and tenant database with detailed reporting options. This real estate software as a service (SaaS) increases functionality and productivity while cutting down overhead IT costs with its easy maintenance.
We have listed some distinct features that characterize Yardi Genesis 2.
Stream-lined AP Work-flows
Accounts Payable function in a real estate office is usually a big source of inefficiencies due to paper intensive manually driven work-flows in AP. Yardi Genesis 2 automates and streamlines AP work-flows, bringing the entire approval process online. This is a major efficiency driver and helps reduce invoice processing costs and delays. Though the average number of clicks go up while processing an invoice, many fields such as vendor name, invoice date etc. are auto-populated (*in the full-service option) and even the secretarial or site staff can code invoices for Accounting to review.
Solid Reporting Capabilities
There are multiple reports that can help you track financials, and operations closely. The financial reports include standard reports such as Balance Sheet, General Ledger, Trial Balance, Income Statement, Cash Flow Statement among others. Some of the unique reports include the Property Comparison report, Monthly Report pack for Owners, Delinquency report, Vacancy and Occupancy report and the Aging reports. Yardi Genesis 2 also has custom dashboards functionality that presents operational and leasing information visually.
Automated Accounting
This software eliminates the laborious process of payment receipt generation. Rental receipts can be easily applied against monthly charges. Genesis 2 also provide east-to-use tools you need to track your payables for both cash and accrual accounting. Moreover, payments can be made electronically. The system also has the ability to put hold on individual invoices, vendor accounts, and stop payments to vendors where insurances have expired.
Share Owner Information Seamlessly
All reports and necessary documents can be shared with owners through a special portal online. There is no need to search and manually share these important files.
Maintain Work Orders Effectively
Work order allocation and materials tracking regarding ongoing maintenance requests in a property can be managed easily through this software. You can not only initiate or cancel orders, but you can also assign specific tasks to vendors and track the progress of the work as well.
Useful Add-ons
RENTCafe for Genesis2 helps in creating website that are integrated with your database. The sites have the ability to pull in real-time pricing and availability
Yardi Resident Screening is an online resident screening system offering comprehensive reports for property managers to make smart rental decisions and minimize risk
ResidentShield is an economical renter's insurance plan for personal property and liability coverage
Yardi Payment Processing processes electronic payments and checks for accounts payable and accounts receivable with one platform
The above add-on products can aid you to attract potential residents and retain quality renters as well. Moreover, they allow monitoring and makes it possible for renters to maintain their insurance and make their rent payments easily. Commercial Cafe and Condo Cafe are similar add-ons designed for commercial spaces and condominiums.
Benefits for Commercial Owners and Managers
Genesis 2 offers efficiency to commercial owners through its semi-automated features such as reconciliation of billed charges against projected CAM (common area maintenance) charges. CAM charges can be calculated on three different bases and utility rebilling to residents is very easy and standardized. Reports generated can be easily shared with tenants through the software as well. Commercial Cafe lets you get a better idea of properties on the market to be sold or leased. Tenants also benefit from a host of services including online payment of dues, maintenance requests and much more.
Drawbacks of the Software
Many users of Genesis 2 feel that the application is not particularly user friendly and is less intuitive. Each function needs time and practice in order to execute properly. Until you get to know it, it is not an easy to use platform
Even though the knowledgebase for Yardi Client Central is vast, finding documents for a specific task is a tiresome process. It may take hours to review multiple related source documents before you find exactly what you are looking for. The customer support team at Yardi also looks at solving the issue on its own rather than assisting the user with the solution
While the cost of the overall license is reasonable, but the cost of specific modules can be expensive and many advanced features are in the paid add-on modules
The implementation support from Yardi is limited and users have often reported using external consultants during the implementation phase
Conclusion
Yardi Genesis 2 software is a versatile software solution for real estate, property and asset management. It streamlines the workflow thereby optimizing accounting and management functions. It is an innovative way to manage real estate and property accounting needs with the help of an automated, mobile-friendly software. The result is a cost-effective and time-saving tool that benefits all the real estate industry constituents- namely owners, managers, current and potential renters and leasers effortlessly.