Real estate accounting or real estate property accounting requires strong acumen to process, track, and record the day to day transactions due to revenue recognition being more complex when compared to any other business. Hence, it requires a duly qualified real estate accountant to record, analyze, and report the real estate accounting transactions.
The infographic will further talk about the Real Estate Accountant Job Description, Duties and Requirements which is as follows:
Real Estate Accountant Job Description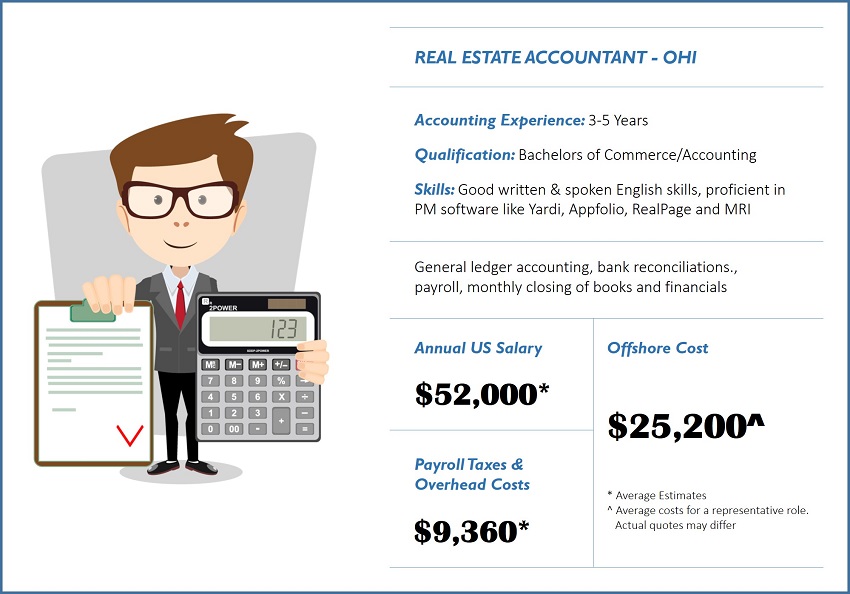 About
OHI is a fifteen-year-old real estate services company working with 50+ commercial and residential real estate developers, funds and property management companies across USA. Our deep expertise in real estate accounting, financial analysis, lease administration and asset management has helped clients cut associated costs by 40-50%. We currently provide these services to a portfolio of 75000 units across clients.
We invite you to experience finance and accounting outsourcing through us.
---
Low Cost Property Accounting Services for Residential and Commercial Real Estate Firms: AP | AR | Reconciliations | Month End Closing | Financials | Year End Accounting | Reporting – VIEW MORE