Real Estate Outsourcing is soon catching business trends. Small and medium real estate businesses exclusively stand to benefit from the inherent advantages of outsourcing. One of the most inherent advantages of this practice is that a business tends to incur efficient gains from a healthy and long-lasting competitive advantage. Right from outsourcing accounting to marketing tasks, real estate firms are making the most of specialized firms to make the most out of their services.
However, with the advantages there are drawbacks too. The infographic provides top real estate outsourcing risks and how you can avoid them before they penetrate into your business.
Ways to avoid these are:
Whenever

Corporate real estate outsourcing

takes place, be determined to communicate on a regular basis and the quality of service, shortcomings witnessed, and some other work-related things must be discussed.

Before choosing the

outsourcing real estate service

company, conduct in-depth research and analyze the service provider properly. Compare various service-providing firms, understand and get assured about data security. 

Before getting into any contract or any commitment, thoroughly check the cost details and have a clear discussion about the service charges like accounting outsourcing

, property outsourcing

, etc.

A joint management plan must be made and executed with the

outsourcing real estate service

provider. This will help the company to retain control and managerial activities won't be completely in the hands of the outsourcing firm.
Regular inspection by the real estate firm will help maintain balance and not lose control.
Real Estate Outsourcing Risks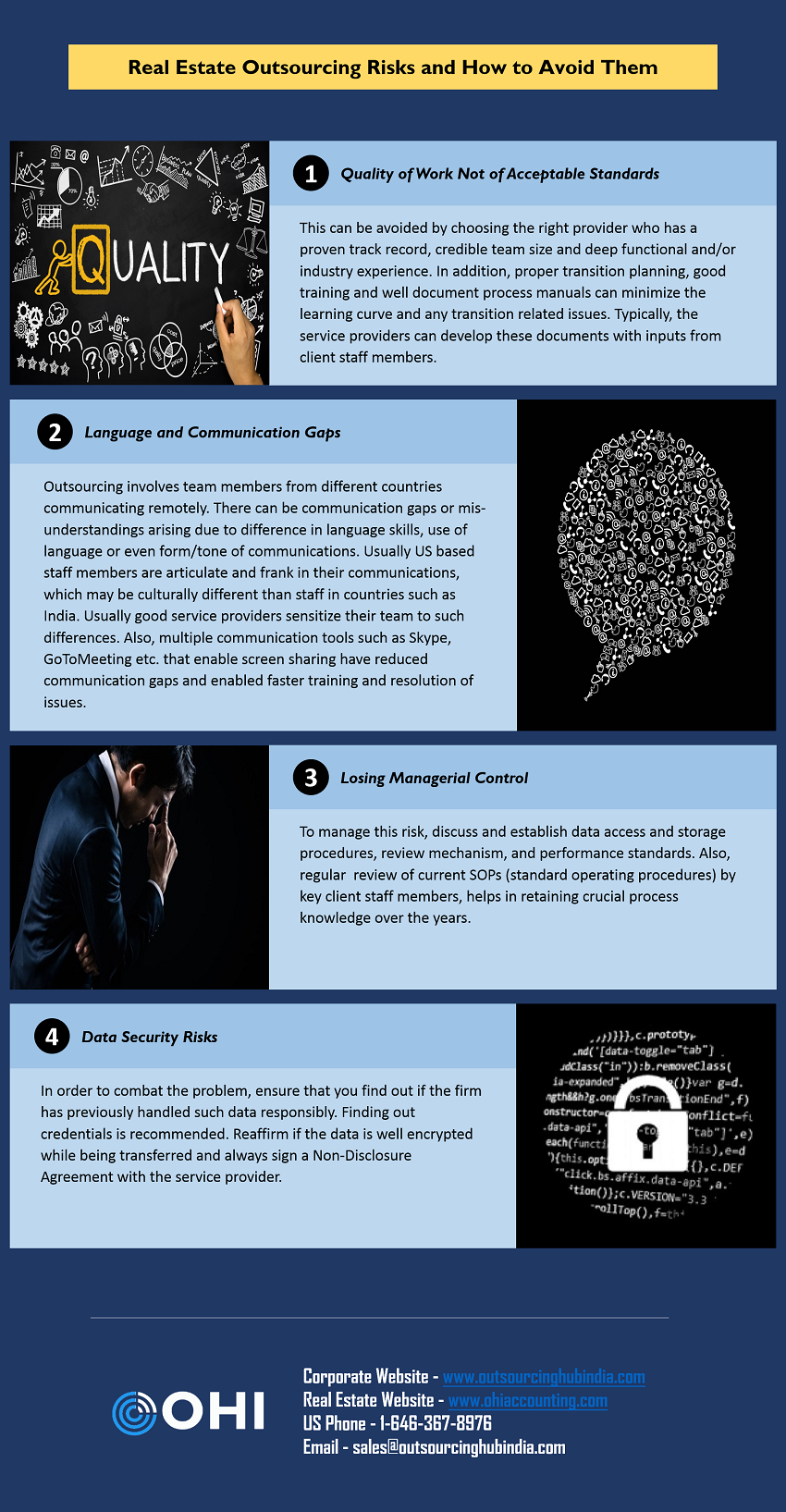 Conclusion
Real Estate Businesses outsource their financial accounting jobs to experts and professional firms in order to keep the focus on their primary jobs. However, real estate outsourcing risks lies in the method of accounting these outsourced firms use, especially whether such method is consistent and relevant to the ones you have always followed. Real Estate Outsourcing should be done with care, choose your partner carefully for it can either make or break your business.
Outsourcing is not all bad but excess of anything can cause troubles. As stated above, by maintaining an adequate balance, things can go well but in all this chaos no firm should forget its real essence and purpose, and do its core activities. Taking help is not wrong but no firm should blindly rely on such outside help.
Any firm is recognized by the amount of effort it puts into understanding its customers and retaining them. If particularly any public relation service is being outsourced then inflexibility might pitch in and impact the company's reputation. 
Outsourcing in the real estate industry should be done with utmost care and must have clarity about everything.
About Us

OHI is a fifteen-year-old real estate services company working with 50+ commercial and residential real estate developers, funds and property management companies across USA. Our deep expertise in real estate accounting, financial analysis, lease administration and asset management has helped clients cut associated costs by 40-50%. We currently provide these services to a portfolio of 75000 units across clients.
We invite you to experience finance and accounting outsourcing through us.
---
Low Cost Property Accounting Services for Residential and Commercial Real Estate Firms: AP | AR | Reconciliations | Month End Closing | Financials | Year End Accounting | Reporting – VIEW MORE