Real Estate Outsourcing is soon catching business trends. Small and medium real estate businesses exclusively stand to benefit from the inherent advantages of outsourcing. One of the most inherent advantages of this practice is that a business tends to incur efficient gains from a healthy and long-lasting competitive advantage. Right from outsourcing accounting to marketing tasks, real estate firms are making the most of specialized firms to make the most out of their services.
However with the advantages their are drawbacks too. The infographic provides top real estate outsourcing risks and how you can avoid them before they penetrate into your business.
Real Estate Outsourcing Risks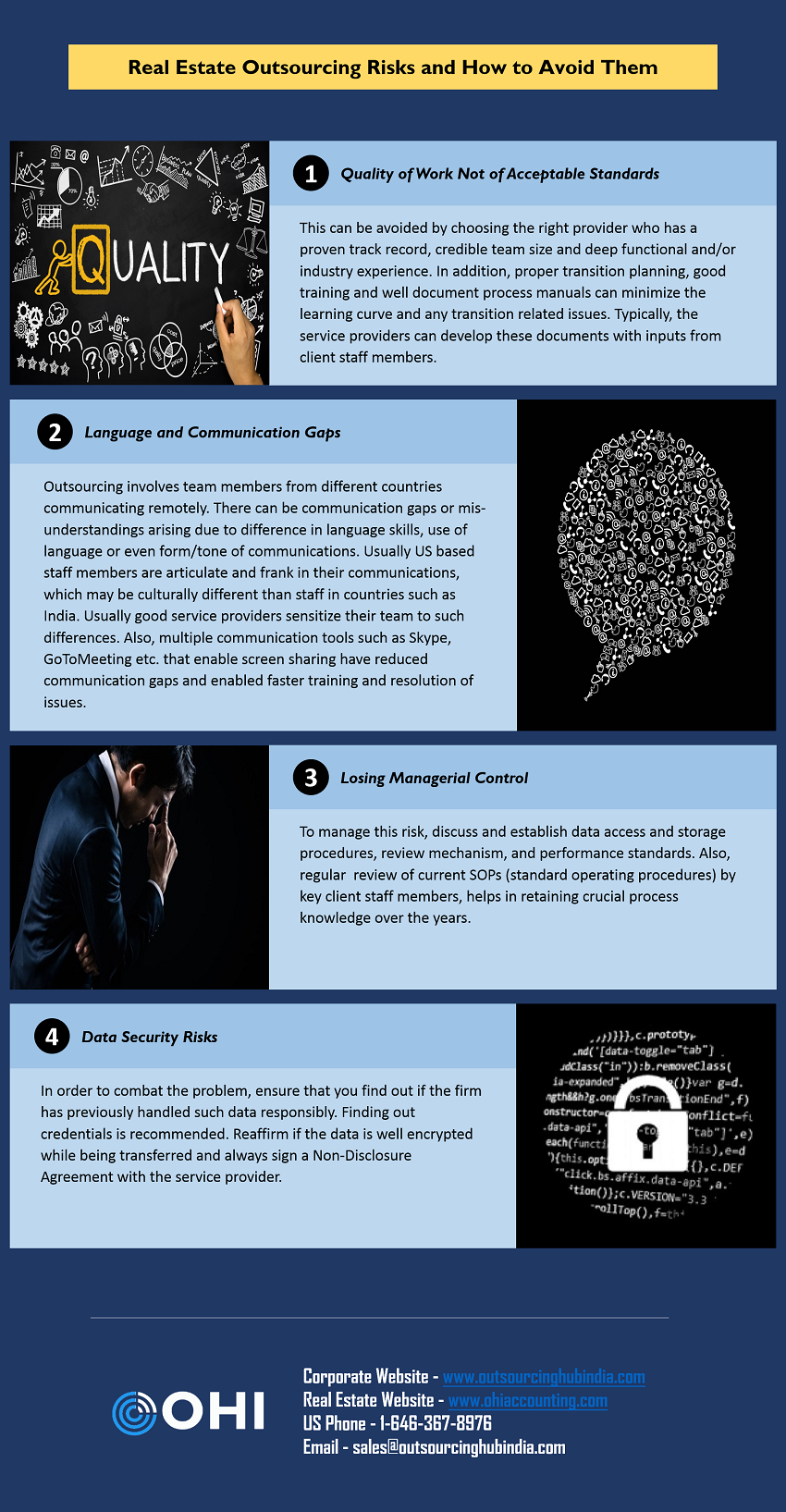 Conclusion
Real Estate Businesses outsource their financial accounting jobs to experts and professional firms in order to keep the focus on their primary jobs. However, real estate outsourcing risks lies in the method of accounting these outsourced firms use, especially whether such method is consistent and relevant to the ones you have always followed. Real Estate Outsourcing should be done with care, choose your partner carefully for it can either make or break your business.
About Us

OHI is a fifteen-year-old real estate services company working with 50+ commercial and residential real estate developers, funds and property management companies across USA. Our deep expertise in real estate accounting, financial analysis, lease administration and asset management has helped clients cut associated costs by 40-50%. We currently provide these services to a portfolio of 75000 units across clients.
We invite you to experience finance and accounting outsourcing through us.
---
Low Cost Property Accounting Services for Residential and Commercial Real Estate Firms: AP | AR | Reconciliations | Month End Closing | Financials | Year End Accounting | Reporting – VIEW MORE