Outsourcing accounts payable process is where accounts payable of a company is managed by some third party accounts payable companies. This means, as a business, you handover your accounts payable process to a company that specializes in it. Through account payable outsourcing services, you can outsource your tasks like invoice processing, ap disbursement and accounts payable related reporting.
Outsourcing accounts payable services to a third-party frees-up the in-house AP department. If you are a small business, you do not have to worry about setting up an AP department, and your processes will get handled by the best in the industry. The outsourcing process will also free up time for higher-level tasks and core business processes.
Paying bills is a necessary evil, but it can be a major distraction for any business. Outsourcing your accounts payable to a specialised firm means your task is handled by professionals who have the time and resources to give you the attention you need. They also supply cutting-edge software to streamline your accounts payable processes. 
It might be frustrating to outsource accounts payable services since it can be difficult to monitor the success of the outsourcing company. Spend money on productivity tracking software that can also monitor billed hours and analyse invoices.
Benefits of Accounts Payable Outsourcing Services
Following are the main benefits that come with accounts payable outsourcing services
1. Saves Money and Time
The accounts payable process is time-consuming. It can easily take a business' attention from core business processes. So, by outsourcing it, you save a lot of business time. Moreover, an in-house AP team can be extremely expensive. You will have to hire the best brains in the industry, and you might also have to train them and then provide them with the best tools in the industry. Outsourcing the process is much cheaper in comparison.
2. Best Tools
When you hire an accounts payable outsourcing services company, you get to enjoy the latest tools including automation and upgrades that efficiently take care of your accounts payable.
3. Improves Efficiency
When your AP process is being handled by others, you can focus on core processes at your venue and use your experts to manage other processes that need specialized attention.
4. Management by the Best
Most accounts payable outsourcing services companies hire highly trained people who will dedicatedly handle your process. So, when you handover your accounts payable to a third party, you stand to receive the best services from the best people in the industry.
5. Constant Attention
In a business, it is almost impossible to pay complete attention to one process, but when a process is outsourced, you can rest assured that your company will receive constant attention. Accounts payable outsourcing services companies usually assign an account manager for every business, and there is someone constantly working for the company.
Accounts payable is a tedious and time-consuming task that can divert a company's resources from other important endeavours. Outsourcing your accounts payable to a specialised firm means your task is handled by professionals who have the time and resources to give you the attention you need. They also supply cutting-edge capabilities, such as automation and updates, to effectively manage your accounts payable.
How to Outsource Accounts Payable?
Handing out your accounts payable process to someone else calls for some homework on the part of the business. Here's how you can streamline the process and make the most of it.
1. Start with Choosing the Right Service Provider
You cannot compromise on the credentials of the accounts payable service providers. The company has to be the best and should come with a barrage of good reviews. Meet the company people, and interview them for their skills and past achievements. Ask around for recommendations and choose a service provider that has a decent amount of experience and a good portfolio to show off. Do not forget to dive deep into their policies to understand details like privacy and data protection.
2. Prepare Your In-House Team
Hiring a third-party for your accounts will change a number of in-house processes. Outsourcing will change the basics; for instance, your team will need to learn how to handle remote teams of the service provider. There will also be changes in data submission systems which will need some training on the employees' part. Preparing the in-house team can help a business ensure smooth on-boarding and efficient coordination among all the parties.
3. Invest in Performance Monitoring Tools
Accounts payable outsourcing services can get stressful because it gets difficult to track the productivity and performance of the third party. In order to make a smooth transition to outsourcing, you should invest in performance monitoring tools that can:
Check productivity levels
Keep an eye on billed work hours
It is important for companies to perform their research before outsourcing their accounts payable. It is imperative that you take all necessary measures to assure the dependability of the businesses you contract with to manage your account receivables. 
When you hire a company from the outside to manage your accounts, you will need to make changes to the usual procedures that are followed within your company. For an internal team to be considered adequately equipped, efficient onboarding and collaboration must be facilitated.
Accounts Payable Services Offered At OHI
OHI provides the best account payable service USA and is a specialized finance and accounting outsourcing service provider with over fifteen years of finance and accounting outsourcing experience. We have strong functional outsourcing expertise in end to end process of accounts payable covering daily accounting activities, reconciliations, month end and year-end account finalization processes, employee reimbursements, payroll processing, management reporting and financial analysis.
OHI serves close to 300+ clients across USA, UK and Canada.
OHI has an experienced team with staff that have an average of 6 years of US accounting experience. OHI offers 40-60% of savings to businesses who outsource their accounts payable process as compared to those who have an in-house team.
OHI's offering in Accounts Payable include:
Entry of invoices and payments
Processing of utility bills
Weekly check-run processing
Vendor reconciliations
Regular reporting
More details on our services and process can be viewed here. View More
Pricing Options with OHI
OHI offers the best services at reasonable accounts payable outsourcing pricing and we have different pricing options for its clients including full time and part-time staffing. Our indicative standard charges for accounts payable services are listed below. Through OHI, you have the freedom to decide on the "what" (asset-intensive outsourcing), "when" (dedicated workers or project-based), and "how much" of your outsourcing arrangement (cost centres or cost models). A representative profile and indicative savings are also defined.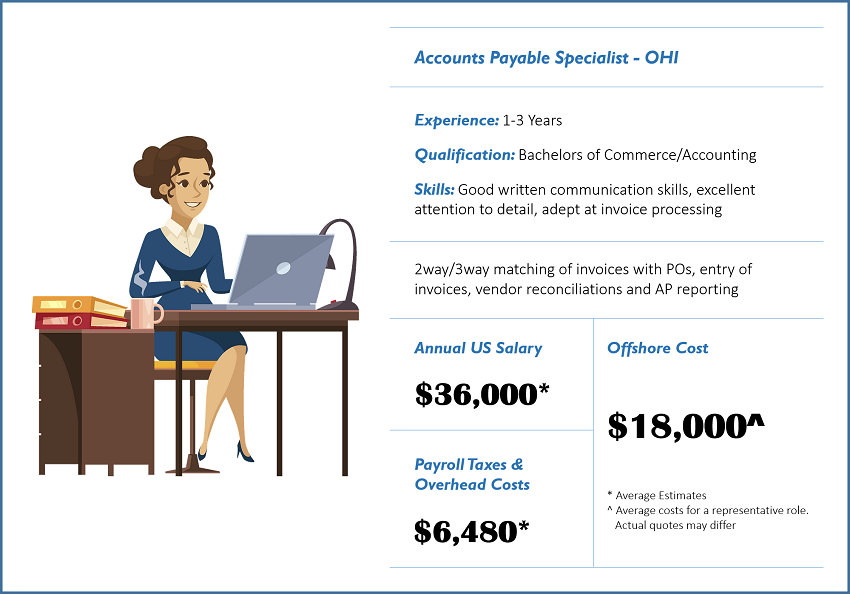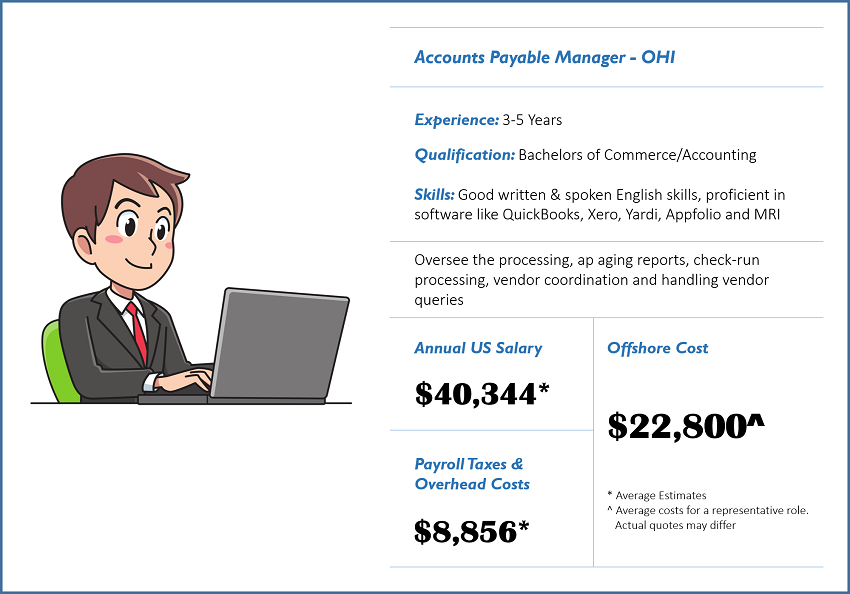 Accounts payable processing needs precision and expertise. It's one process that cannot afford even the smallest of errors. OHI offers precision and excellence through its team of experienced accountants and finance experts. With OHI's Accounts Payable Outsourcing Services, you can be rest assured that your Accounts Payable are in best hands.
Before deciding to outsource their accounts payable, businesses should do their homework. Each member of OHI's team has at least six years of expertise in public accounting in the United States. Our accounting services cover the gamut from day-to-day bookkeeping through reconciliations at the end of each month and the year, as well as payroll and management reports.
---
Learn More About Our Accounts Payable Outsourcing Services: Entry of Invoices | Check-Run Processing | Vendor Coordination | AP reporting – VIEW MORE