Property owners expect a property maintenance report to keep track of their assets. The property management company gives the owner a clear understanding of their asset using financial reports. Property management software is used for this purpose. 
Property management reports need to consider the scope and objectives of the report.
Who Needs a Property Management Report?
Property management reports are needed by property analyst firms, private landlords, property managers, and community managers for asset analysis.
These property management reports describe to the owners how the property is performing. The report talks about the property goals to focus on. To get the perfect result, hiring a good rental management company becomes crucial. 
What is Included in a Property Management Report?
A property management company provides the following reports to property owners as part of the monthly property management report for understanding property management financial reports and devising appropriate measures to grow: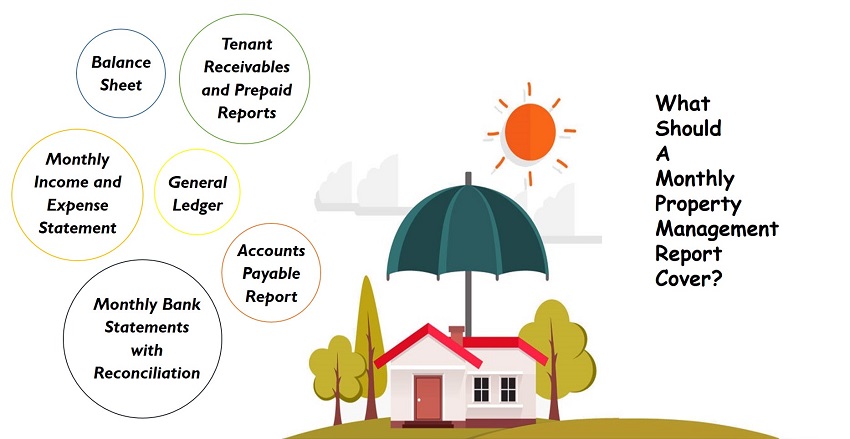 Income Statement
An income statement is one of the three important financial statements that management companies provide as a report about the company's financial statement over the accounting period. This statement is also known as the profit and loss statement or the statement of revenue and expense.
The income statement describes the company's revenue and expenses during the accounting period. It shows property revenue minus expenses and losses.
This statement also covers the following elements:
Income By Category
Overall Total Income
Expenses By Category
Overall Total Expenses
Line item with total income minus expenses
Owner Statements
The owner statements for property owners summarize owner account activity for a specific period. This property management report is also called the Balance Sheet.
This report shows how much money existed at the beginning of the period, the amount of cash that came in and went out. The report shows the account number, account holder's name, the property owned, revenue, opening account balance, fees and payments, money generated and lost, and closing account balance.
In summary, you will see balances in bank accounts, total delinquency and vacancy amounts, security deposits held, the sum owed to others, and ownership distributions.
Account Ledger Report
This property management report is primarily used for monitoring the financial activity of your business. The Account Ledger Report provides a record of each financial transaction that takes place during the life of the company.
The report contains the account summary, including details of every transaction out of your accounts. It is organized by date and by account type for detailed analysis.
The cash flow statement states how well a company manages its assets and how well the company generates income to pay its debt obligations and fund its operating expenses.
Accounts Payable Report
Accounts payable reports should include all payments made during the reporting period for debts and other financial obligations. It provides a simple audit trail for all funds for all properties.
Tenant Receivables and Prepaid Report
The asset account Rent Receivable is used by the landlord to check the amount of rent they must have earned but has not been received from the tenant as per the balance sheet date. This property management report details individual tenant delinquent and pre-paid accounts.
The report summarizes on the balance sheet and income/expense statement. If the rent is paid on time, the landlord will have a zero balance in Rent Receivable Report.
Copy of Monthly Bank Statements with Reconciliations
A bank reconciliation statement is a report that compares the cash balance on a company's balance sheet to the bank statement. Reconciling the two determines if accounting changes are needed for the property.
Complete the reconciliation at regular intervals to ensure that the company's cash records are correct. This can also help detect fraud and any cash manipulations in the property.
These reports will substantiate the bank account balances reflected on the balance sheet and the deposits reflected on the general ledger.
Property Management Budget and Performance Report
As a property management software, along with the reports, also offer the owners other important metrics. These elements are important for budgeting, goal setting, daily management, and property management accounting. Several companies offer online property management and rental management services. 
Reports such as :
Tenant Turnover
Property Service Reports
Bank Ledgers
Category Ledger Reports
Trial Balance Report
Balance Sheet
Online Payment Reports
These residential property management accounts reports cover the property re and rental industry. Management needs to do regular analysis of the rental management and the individual properties and tenants in their care with the help of property management reports.
What is not Included in a Property Management Report?
Property management recording might also include a few other important elements of the company that are important to the owner of the property. These elements are included only if they are specifically demanded by the owner:
Delinquent Tenant Report
Tenant Screening Reports
Schedule E Report
ACH Settlement
Vendor Ledger
Rent Roll
Unless an owner has specifically put his requirement into demands, the detailed reports of these elements aren't offered to him to avoid unnecessary data.
Creating Accurate Reports
Residential property management companies must follow proper and timely data-entry. Having accurate reports for your clients will allow your company to put processes in place that will save not only your time but also money.
The property management report should address all the needs of the owner without missing any important requirement. The property management report must be received monthly for detailed analysis. Outstanding checkpoints at every point need to be maintained to avoid the hassle.
Accurate and valid data reports will enhance healthy customer engagement with the management company. This improves the relationship between the management company and the property owner by building trust.
Timing and Report Access
Decide the terms of the agreement beforehand between the property owner and the management company. This will decide if the reports will be provided monthly or quarterly or yearly.
Provide easy access to portals that will allow the owners instant access to real-time data and residential property management reports. This will save the property management company time and also give the owner some peace of mind by enabling them to see how their properties are doing without waiting for weeks or months.
Take Away
These financial reports are provided to property owners so you, as a property management company, can avoid unnecessary expenses and losses. The work is laborious and takes time to master. However, as a property management company starts to serve several clients with diverse purposes and agendas, it learns various tactics and successfully establishes its distinct identity in the industry.
Having integrity, accountability and a transparency driven approach to services are of paramount importance to every niche. Satisfy your customer's property needs with quality–quantity data and increase your customer base along with customer retention. Upholding dignity and having the best interests of the clientele in mind are the keys to having a prosperous property management corporation with a sturdy client base. In a nutshell, with a client-centric methodology and ideology, you can form a mutually profitable collaboration on the foundation of trust.
About
OHI is a fifteen-year-old real estate services company working with 50+ commercial and residential real estate developers, funds and property management companies across USA. Our deep expertise in real estate accounting, financial analysis, lease administration and asset management has helped clients cut associated costs by 40-50%. We currently provide these services to a portfolio of 50000 units across clients.
We invite you to experience finance and accounting outsourcing through us.
---