Having a successful real estate business is half the job done; the other half depends on how well you manage your business's finances.
Not managing your finances means paying higher taxes, negative cash flows, or federal penalties. In this blog, we share some smart ideas for efficiently creating a real estate budget for a healthier and more profitable business.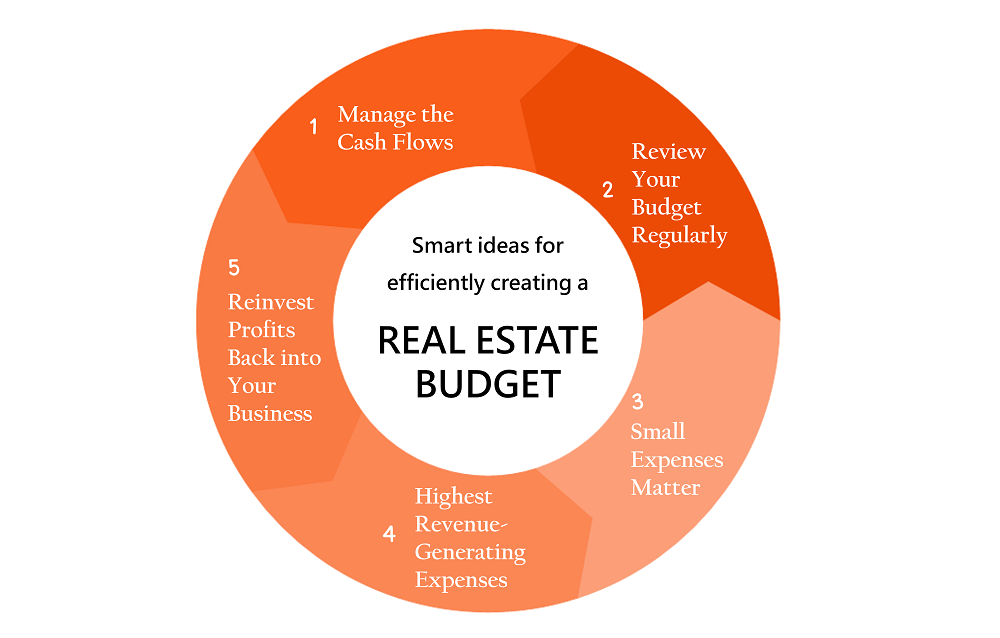 1. Manage the Cash Flows
The first step to real estate budgeting is estimating your cash flows. The difference between your monthly revenues and expenses is your cash flow. Ensuring you have a positive cash flow is thus vital.
Here are the primary components of your real estate budget:
Revenue: Commission, the share of profit from brokerage, and referral income
Expenses: Operating expenses, taxes, and other direct or indirect overheads
Profits/Losses: If your revenues are more than your expenses, you earn a profit, or else you suffer losses
A detailed breakup of your expenses is essential to determine if there is any wastage or leakage. This helps improve your profits and reduce your losses.
Match the expenses as per your books of accounts with your bank statement to verify any unaccounted expenses or discrepancies.
Here are the 5 important heads of expenses for a real estate business:
Advertising
Insurance
Professional fees paid to auditors and other professionals
Office expenses
Vehicles
Enter all the expense data in an accounting software to evaluate your biggest expenses and areas of wastage, if any. You also can divide your expenses into fixed and variable expenses.
Fixed expenses are more static, and variable expenses depend on the level of business activity. Identify variable expenses that don't add value to your business and replace them with more economical alternatives.
2. Review Your Real Estate Budget Regularly
The business environment in which you operate keeps changing, so you can't be successful with a static budget. You need a dynamic budget that takes into account changes in technology and regulatory updates.
Ideally, your real estate budget should be reviewed on a quarterly basis. Reviewing it too frequently makes it difficult to measure the benefits. If there is an annual review, you might miss out on the small changes.
To stay on track with your budget goals, set a weekly reminder. This helps you track deviations as and when they happen.
3. Small Expenses Matter
It's not the bigger expenses that throw your budget off track; the smaller ones also affect your cash flow. When you add smaller expenses, they have a big impact on your budget.
Don't just look at the size of the expense but try to analyse if it is a necessary investment or not.
Further, you need to have a well-planned marketing campaign that defines your target audience and the platforms they visit the most. Expenses, big or small, as part of this campaign should only be incurred.
4. Highest Revenue-Generating Expenses
If you find that a marketing expense brings the highest ROI, then add more money to that investment, even if it is your highest outflow.
Constantly monitor every marketing platform to see which one generates the highest leads. There is no common platform that works for all real estate agents, so focus on the one where you get the highest returns.
5. Reinvest Profits Back into Your Business
Since the profits in your business belong to you, reinvest them in the business wisely to generate more profits.
Only surplus profits after deducting your essential expenses including statutory liabilities should be invested. This helps scale your business faster.
Conclusion
A major part of business success lies in setting a budget for your monthly cash flows. Make sure that only productive expenses are made, so that you earn more for every dollar spent. Review your real estate budget based on the changes in your personal and business environment.
Outsourcing your budgeting needs is a smart way to grow your business and profits since you get to focus on your core strengths. Develop a smart budget strategy and let your revenues soar!
About Us
OHI is a sixteen-year-old real estate services company working with 75+ commercial and residential real estate developers, funds and property management companies across USA. Our deep expertise in real estate accounting, financial analysis, lease administration and asset management has helped clients cut associated costs by 40-50%. We currently provide these services to a portfolio of 100,000 units across clients.
We invite you to experience finance and accounting outsourcing through us.
---
Low Cost Asset Management Services: Property & Portfolio Level Dashboards | Cash Flow Projections | Asset Level Budgets | Financial Analysis and More – VIEW HERE